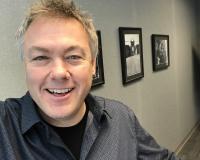 Real Estate Broker & Owner

Rated in the top 3% for client satisfaction out of all the agents/brokers licensed in Cincinnati area!


One of my greatest passions is to use our real estate business to help alleviate suffering in this world. So we take proceeds from Plum Tree to help orphans, feed the hungry, heal the sick and hurting, and to aid the homeless ... both in the States and abroad. We are not about "getting rich." We are about making a difference. So when you do business with Plum Tree Realty, you can know that a portion of your money is going toward helping those on this planet who are in need of help. Together we can make a difference!


It's All About Helping Others!

At Plum Tree, we help agents EARN more money and KEEP more money, because we do not charge the excessive fees and splits that so many of the "big boys" charge. At the same time, we can provide cutting edge design, support, and services.

And we help our clients through high-level, professional service and a greater degree of flexibility in the ways that we can charge for those services. For buyers, we can give you great guidance in your pursuit of a home, we can schedule home tours to allow you to see dozens of homes in a short period of time, and we can negotiate great pricing on your behalf. And you never have to pay us a dime!

For sellers, we can offer you a couple different options. If you would like to try to do most of the work yourself, but you would like exposure through the MLS and over 200 websites, then we can set you up for a Flat-Fee Listing for just $500. If you would prefer a full-blown marketing plan, we can do that, too, for just a 6% commission. If it doesn't sell, then we do not get paid!

If you are interested in taking your career in real estate to the next level, drop me a line! (513-378-4663)

If you are interested in working part-time in real estate while you continue your current career, then give me a call! (513-378-4663)

If you are interested in buying or selling your home, then call me right away! (513-378-4663)

We would love to help you!



29-Day Guaranteed Sale Program!

Performance Guarantee –
I will sell your home in 29 days or I will sell it for free…100% guaranteed.*

Risk Reversal –
"Easy Exit Listing" – You can cancel our contract at any time with no penalty.

Communication Guarantee –
We will call you every Thursday with a report or you can fire us on the spot.

Smart Sellers Program –
You can continue to market your home; if you sell it on your own, you will not have to pay us anything!



Here's How I'll Do It!

With my Full-Blown Marketing Plan, my objective is to create a Marketing Engine that aggressively drives the sale of your home as quickly as possible and with as high of pricing as possible. Selling your home quickly and making you a large profit are our two key areas of focus.

Active Marketing rather than Passive Marketing
Most Realtors engage in passive marketing rather than active marketing. In other words, they merely put a sign in the yard, put your house on the MLS, and then wait by the phone for people to call. That does not sell homes, and it certainly does not earn the commission that is being paid!

I will work hard to actively market your home. I have a specific plan of action with the focus of aggressively seeking out buyers, bringing them through your home, and then working to close them on buying your home. Sitting by the phone is no way to sell a home! Active marketing is what has allowed me to become a top-selling realtor in Cincinnati.

With that in mind, here is my 26-Point Marketing Arsenal ...



Our 26-Point Marketing Arsenal

Prime, VIP placement on the #1 most-visited website in the world for real estate.
Placement on over 200 websites within 48 hours of going live.
High-end, professional photography to show-case your property visually.
Property Website specifically showcasing this property alone.
Property-specific web app for portable devices.
Premium graphic design and multi-media presentations of your home on the web.
High-end virtual tour which will be distributed directly to over 5,000 agents.
Custom texting code on sign which will allow drive-by buyers to receive high-end electronic delivery of property information on their portable device.
QR codes on signs which will deliver an electronic brochure to portable devices.
Mass-email campaigns to drive traffic to your listing online. Our software allows us to generate emails that fly under the radar of spam-deterring software.
Printed mailings and advertisements to drive people to your online listing.
Distribution of listing and multi-media via social media avenues.
A "Tiered-Down" pricing strategy to ensure you get the highest price possible in the shortest amount of time possible.
High profile on the Multiple Listing Service of Greater Cincinnati.
Customized water bottles with labels that present your property pictures and info. This is a creative take-away that will help buyers to remember your home.
Reverse Prospecting to match your home with buyers who have made MLS inquiries seeking properties with the same characteristics as yours.
Professional graphic design to ensure that our marketing impression is far superior to that of our competition. We must establish graphic superiority in the marketplace!
Professionally designed marketing flyers to display at your home. While most Realtors rely on generic MLS spec. sheets, we will put sizzle into our print advertisements of your home.
Direct phone call campaign to alert power Realtors in the Cincinnati market to your listing.
Direct mail campaign to a specific targeted audience.
Lead qualification to prevent the wrong type of people from taking a "stroll" through your home.
Aggressive follow-up after every showing in order to work to solicit a purchase contract and close the sale.
Premium signage.
Regular Open Houses 
as desired by homeowners.
Staging advice/input to make sure your home is sellable.
Staging placards throughout your home to highlight marketable features.

* This guarantee is based on the following conditions: house must be professionally-staged, inspected, and priced correctly according to an average of the following three price indexes: NARRPR, RealAVM, and Zillow.



Here's what people are saying about my work!


Dr. Paul-
We had our high-end, luxury home listed with the "#1 rated realtor in Cincinnati" for over a year, and she was not able to sell it. Then we called Chris Russell, and he sold our home for a great price in just 28 days. His marketing abilities are far superior to the rest of the real estate agents in the area, and that includes those agents who work in the luxury market. We truly believe Chris is the best realtor for selling luxury homes in Cincinnati. You should call him when you're ready to sell!

(Chris listed and quickly sold this luxury home in Lakota Schools for approximately $750,000.)


Adam and Jenna-
We used Chris's flat fee MLS listing service to sell our home in Milford. A full service realtor (not plumtree) told us that we'd never sell it without her help, and that she'd list the property at $225k and sell it within a month. We had already de-cluttered, taken professional level pictures (Used DSLR camera and Photomatix program), and I work from home and can field calls/respond quickly. Despite all of that, this "other" realtor had us spooked...until we called Chris. He assured me that his flat fee MLS service was a great fit for me based on everything I just mentioned, and we went with him and listed at $230k with a 3% buyers agent commission. The next day, we had a sign in our yard, a lockbox on our door, full MLS listing and started receiving requests to show the house via text message from a program that was also part of the flat rate. Within 48 hours, we had an offer for $229k and the house was sold! Throughout the process I did have a number of questions and Chris was VERY responsive and extremely helpful. Chris ended up saving us $6,500 in seller's commission that would have been a complete waste in our situation, as the house didn't need marketed or sold. If you can take good pictures, price realistically, and respond quickly - the flat rate option is for you. If you can't do that stuff... I'd still go with Chris, just use his full service option.

Thanks Again Chris - we've already recommended you several times! -Adam & Jenna

(This couple utilized our best rated Flat Fee MLS Service to sell their home in Milford, OH in just 48 hours for $229,000.)


Mike and Katie-
Working with Chris was a great experience! We knew we wanted to try and sell our house on our own, but didn't want to miss anything, and Chris was there to help us through the process. Chris acted as a consultant - we took our house photos on our own, but he gave us advice on how to take them. We wrote our own blurb, but he gave us advice on what to include and how to write the blurb. He made sure we had all the paperwork we needed, when we needed it. (We needed papers on a Sunday night, and we had them within minutes!) He was always available for questions, and very responsive. We would highly recommend working with Chris and Plum Tree!

(This was another success story for our Flat Fee MLS listing service. They sold their home in Dayton, OH within a week and saved thousands of dollars in commissions!)


Matthew and Jessica-
Highly organized and prompt in his service- the entire experience was made easier by his calm demeanor and positive attitude throughout the process. Was able to get from listing to closing in a short amount of time. I have not had this kind of attentive care with other real estate agents I have worked with in the past.

(This couple used our Flat Fee MLS Listing Service and sold their home in Mason, Ohio in less than 7 days for $450,000.)


Jason and Joy-
We decided to move right before the real estate bubble burst. That decision left us with both our former and current house under our ownership which was a situation we surely did not desire. Using some pretty innovative measures, Chris was able to sell our former house and helped get us out of a deep financial valley.

(Chris sold this home in West Chester for $225,000.)


Pam and Greg-
Chris sold 3 high-end rental duplexes for us at a time when the real estate market was not conducive for investment property sales. Banks were really tightening up their requirements when loaning money for rental property, and appraisal values were at an all-time low. Chris served as agent for the buyer on two of the duplexes and spent hours helping both of us work through negotiations to reach a fair price. He worked closely with the agent for the buyer on the third duplex, and was also able to secure a fair price for that property. Chris coordinated inspections and repairs for all of the properties. Selling these duplexes was a critical part of our retirement plan, but we really didn't think we would be able to find buyers due to the real estate market slump. Not only did Chris find buyers, but he also maneuvered through many obstacles to help close all three deals within a year's time. He is very professional, knowledgeable, dedicated and efficient! We would highly recommend Chris to both buyers and sellers!

(Chris used his investor network to find buyers for this real estate package which sold for over $700,000.)


Susan and John-
Real estate transactions can be very burdensome and overwhelming. After all, they are among the largest dollar transactions we make in our lives. The last thing you need to deal with is real estate agent that is inexperienced and uninformed or one whose follow-up and attention to details is lacking. Choosing the right agent might be as important as choosing the right doctor. In my experience, Chris brought expertise, passion, attentiveness and personal care to the whole process. I felt a great deal of confidence in his guidance and he was always upfront and honest. We had to maneuver through a couple of significant curve balls in our real estate transaction and Chris was always prepared and armed with the information and answers we needed to make our decisions and deal with the other party. Spend just 15 minutes with Chris and his team and you will be certain you have found the perfect agent!

(Chris helped this couple buy a beautiful home in Middletown, OH for around $200,000!)


Jean-
Christopher Russell of Plum Tree Realty went the extra time consuming miles to find the perfect home for my daughter and her family. Mr. Russell was sensitive to the needs in finding a home that was not only affordable but good quality. This made me feel very comfortable and trusting that Plum Tree would find them this home. The time and effort Mr. Russell took to fulfill these needs was immeasurable. His patience with us was amazing. I personally recommend Plum Tree Realty because of the dedicated and trustworthy service you will receive.

(Chris worked hard to find this family a beautiful home for a great price in Lakota School District.)


Jarrod and Paige-
Chris was a pleasure to work with! Throughout the entire process of buying our first house, he was extremely responsive and answered all of our questions thoroughly. Once we placed an offer on the house, he negotiated extremely well to get us a great deal all around. Additionally, he is extremely friendly and approachable, and he makes the entire process seem like a breeze!

(Chris worked with this couple to help them get pre-approved for a loan, find a great deal on a home, and close without any complications.)


Todd and Susan-
We had the pleasure of working with Chris Russell as our realtor when we purchased our current home. Chris was outstanding to work with throughout the entire process! He was highly knowledgeable, but also a great listener. He truly cared about what we were looking for in a home and he took the time to understand our situation as a family.

Chris gave us wonderful advice throughout the negotiation process. We love our house, but I can honestly say I do not think we would have gotten it without Chris -He steered us perfectly in negotiations.

Chris was kind, caring and applied zero pressure to us throughout the home buying process. We would not hesitate to work with Chris again and we would recommend him to anyone in search of a great realtor and person!

(Chris helped this couple rent out their existing home and then purchase a home in Liberty Township, OH for around $230,000.)


Zach and Lindsey
Chris really understands the Cincinnati housing market. He made buying our first home an absolute breeze. When it came time to sell, Chris was the first person I called. Even with a high number of homes for sale in our area, Chris got us a great offer. I would highly recommend him and Plum Tree Realty.

(Chris helped this young couple buy a home for around $200,000 in the Lebanon School District and then resell that same home within 2 years without losing money. And this was in the middle of a stalled real estate market.)


Jim-
I was very pleased with Chris and Plum Tree reality. I found him personable, but more importantly competent. He responded quickly whenever I had a question, and explained everything in a no nonsense manner. Best of all, he sold my house.

(Chris was able to sell this fine home in Liberty Township, OH quickly for around $250,000.)


Mark-
Chris was extremely helpful in every step of the purchase of my home. This was my fist purchase, and he insured the best experience possible. I would recommend him to anyone, and will use him again for me next home purchase!

(Chris helped this single dad find a great home in the Mason School District for under $200,000.)


Pete and Terri-
Chris Russell was able to help us sell our home in a dismal market a few years back in less than a week and over the asking price! He brings both very high professionalism and integrity to the job. I recommend him highly and if we still lived in the area we would use his service again. We definitely believe Chris Russell is the best realtor in Cincinnati for selling a home!

(Chris aggressively marketed this home in West Chester, OH and was able to sell it above asking price in just 48 hours!)


Steve and Lisa-
My husband and I went through Plum Tree Realty to purchase our first house and they are great! They are very helpful, knowledgeable, caring, and I would highly recommend them. We are very happy with our new house and we couldn't have done it with out them.

(Chris helped this young couple buy a home for around $185,000 in the Loveland School District)


Laura-
I highly recommend Chris Russell at Plum Tree. The house selling process was seamless with his help. I am very grateful for the option to do the flat fee listing Plum Tree offers. It was the best choice for me to transition to from wanting to sell by owner. From the beginning, Chris was promptly responsive and the process was customer/user friendly, quick, and efficient. His services were a blessing to me in my house selling process.

(Chris was successful in selling her Northern Kentucky home quickly and for very close to her asking price.) (Erlanger, KY)


Mackenzie and Emily-
We used Chris Russell with Plum Tree Realty to sell our house. The experience was superb, and we will never use a different realty company for this process. We were under contract within the first week of signing with them!

(Chris sold their home in Beaverceek, OH in less than 1 week for $288,000) (Dayton, OH)


Beth-
I had zero knowledge of the real estate industry. Chris was able to help me navigate through the process, answer any question I had and provide sound advice that proved to be beneficial for the final result. He has excellent negotiation skills, was honest about what could happen and helped me get into the perfect home within my budget and timeframe.

(Chris helped Beth purchase a home in Liberty Township, OH in an excellent neigborhood with great schools for an amazing price!)




People often ask, "Who is the best Realtor / real estate agent in Cincinnati?" Hopefully, the above references answer that question for you!



Chris Russell is a Christian Realtor in Cincinnati who is very passionate about his faith. In addition to running Plum Tree Realty, Chris also pastors a church in the Northern Suburbs of Cincinnati (www.SeekVeritas.com). If you are looking for a Christian real estate agent in Cincinnati/Dayton who runs his business in harmony with his faith, then Chris is your guy!
Send Chris a Message